have a look
FOLLOW LMI
"I'd like to share Christ, but I just don't know how!"

When God gives you an opportunity, just smile, pull out a copy of If We Never Meet Again or What If No One Warned You? and say, "Here's something I think you'll enjoy reading!"

Screensavers
Accountability
Filter
Equipping

Your resource site for personal and family Internet safety.
Welcome to The S.A.F.E. Site! Literature Ministries has always been proactive in the battle for purity. Believing that personal purity has never been harder for the Christian than it is today, we now supplement our own publications with carefully chosen resources. They are right here on The S.A.F.E. Site. LMI's biblically-based approach to dealing with online temptations has always included both prescriptive and preventative steps, emphasizing reliance on the Holy Spirit.
Godly reminders in a logical place—on your computer screen!
LMI's screensavers place a godly reminder on the very screen that has the potential to introduce sexual temptation to your desktop. They combine selected Bible verses with LMI's exclusive screensaver images.
The Triumph Over Temptation screensaver features dramatic photos taken by highly acclaimed photographer C. David Edmonson. The Escape the Trap! version highlights illustrations by an outstanding illustrator, Jonathan Koelsch. The carefully selected Scripture quotations in these screensavers are consistent reminders of God's ever-present help in time of temptation. Both are available free of charge.
Click here to begin the freeTriumph screensaver download
(available for PCs only; 2.5 MB).
Click here to begin the free Escape the Trap! screensaver download
(2.4 MB).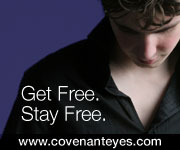 Fight back—get free, stay free
Surveys show 70 percent of men and 21 percent of women struggle with online pornography. Escape the temptation by removing the secrecy of the Internet with Covenant Eyes Accountability software.
Once Covenant Eyes software is installed, it monitors and records all web activity and scores all sites according to content. This information is then presented in a customizable report which is emailed to the Accountability Partner(s) of your choice. Partners may choose how often they receive the report by email, and partners and users may also review reports from our online Member Center. Because we provide scoring, partners and users can easily identify "mature" web addresses, searches, links and more. We also show trends for websites viewed and bar charts that show the times of day and night when the Internet is used.
Multiple username discounts are available for families and organizations. Each username will generate its own report even though the computer is shared with other Covenant Eyes users. Once you sign up for a username, download our software to as many computers as you like at no charge. While other accountability programs are easily circumvented, Covenant Eyes is simply the strongest, most frequently updated accountability service available.
Check out LMI's partner in accountability: Covenant Eyes!
Protect your family with the Covenant Eyes filter service. Filter settings may be created for individual usernames on the same computer. Covenant Eyes is flexible and grows with the preferences you request. Or you can simply use its standard settings for complete protection.
The CE filter may be used with or without the Accountability service. If you want multiple usernames on the same computer, simply choose which services are used by each person—accountability, filtering, or both.
The filter is also flexible. Select the times of day the Internet may be used, and how much time per day or per week the Internet may be surfed. Block or allow individual websites. This software also helps filter instant messaging, file sharing, and other protocols. You decide who may override the filter and who may not.
In partnership with Literature Ministries, Covenant Eyes contributes a portion of each subscription to help keep this ministry proactive and moving forward.
Visit LMI's partner in personal and family filtering: Covenant Eyes!
Equipping families to make good media choices
As part of "Equipping" we'd like to alert you to a valuable resource for making godly movie and DVD choices. Movieguide: The Family Guide to Movies and Entertainment analyzes movies from a biblical perspective, addressing violence, sex/nudity, profanity, and overall worldview.
This approach is based on the core belief of Ted Baehr, Mediaguide's president, that every aspect of the entertainment industry should be evaluated by principles like these:
Seek first the kingdom of God and His righteousness.
Read and study God's Word regularly to build a biblical worldview.
Know before you participate; pre-decide based on good input.
Train your children to be able to evaluate media from a biblical perspective.
Monitor your child's leisure-time activities (radio, TV, movies, web) and phone usage, including your older teenagers.
Share the gospel with those around you to keep in perspective why God has you here. Disciple younger believers so they can grow and develop a Christian worldview.
In that spirit, we encourage you to regularly visit this area of the SAFE site or Movieguide directly to help equip you to fulfill Paul's admonition: "Whatever is true, whatever is honorable, whatever is just, whatever is pure, whatever is lovely, whatever is commendable, if there is any excellence, if there is anything worthy of praise, think about these things...practice these things, and the God of peace will be with you" (Philippians 4:8-9).
Equipping disciples of all ages for the web world
LMI publishes handbooks that give guidance from God's Word to teenage boys, college students, single guys, and married men on sexual purity. We also offer online teaching tools to help pastors, leaders of men and youth, and parents to present the contents of these booklets to groups. Our downloadable teaching guides and student sheets are just a click away. There's even a helpful PowerPoint presentation, if you'd like.
Our publications and notes offer practical counsel from the Scriptures pointing men and boys to the God who knows how to enable them to live with purity and integrity. Triumph Over Temptation includes the principles God has used to free thousands of men from the grasp of pornography. The memorable "Call 3-1-1" and the startling "Checklist of Consequences" add value that will last a lifetime. Escape the Trap! features the artistry of comic book illustrator Jonathan Koelsch and includes a novel "Stop! Drop! and Roll!" principle.
See the cover and read the text of Triumph over Temptation online.
Read and see the entire Escape the Trap! booklet online.
Click here to see the downloadable teaching guides.
View the LMI PowerPoint presentation.
Check out our supplemental material on sexual purity.